Latest Post
Christmas fashion
A few days left and I really do not know yet what to wear for the Christmas dinner! I know that I want something unique, elegant and with glitter! Yeap...I know, I am not that kind of person that like glitter, but so what for a night? and if you use it properly, it will add a wonderful detail in your outfit!
So... Gold Glitter shoes and a cute bag, with petite gold accessories and all the eyes in the party will be on you!
Three different proposals, with three different dresses in the must colors for this season (black, burgundy and teal) with the same accessories and make up...
Black is an old time classic color...
And one of my favorite colors, teal!!! So beautiful!
Choose your color, combine it with beautiful accessories and just be yourself!!!
Whether you want to celebrate the season with a festive sweater, pay tribute to good old Santa, make an ironic style statement, or shop for something to wear to an ugly sweater holiday party, there are plenty of holiday-themed sweaters and sweatshirts to choose from. Below, eight styles under $80 that caught my eye.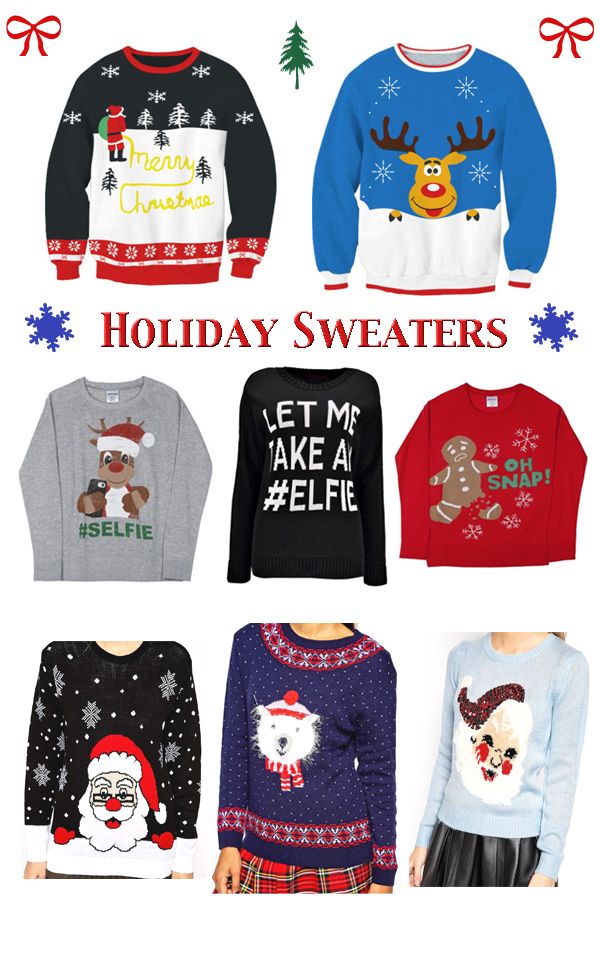 Left to right, top row: Merry Christmas sweatshirt, $21.67, Rudolph pullover, $21.67
Left to right, middle row: #Selfie graphic pullover, $16.79, Let Me Take An #Elfie sweater, $30, and Oh Snap! Gingerbread pullover, $16.79
Left to right, bottom row: Santa jumper, $75.78, polar bear jumper, $60.64, and Santa sequin sweater, $47.36